Benefits


TLALOCNet will produce a wealth of data in near real-time for the Mexican and U.S. operational and research communities as well as government agencies that are engaged in weather and climate research and forecasting. Further, TLALOCNet will significantly improve the usefulness of the wealth of satellite and other data that are already being collected, but are of limited use unless quantitatively linked to near surface conditions. By assimilating low-latency (5-15 m) cGPS-MET measurements from PBO, COCONet, and TLALOCNet, weather forecasting agencies and research efforts underway at UCAR and elsewhere will now have complete coverage of precipitable water vapor streaming into the United States from Mexico and the Caribbean. Accordingly, TLALOCNet will enhance and significantly extend the broad impact of existing and emerging cGPS-MET infrastructure.

Another major outcome of this project is the development of the TLALOCNet data center that will serve as a collection and distribution point for all academic cGPS-Met sites throughout Mexico. This data center will also work as part of UNAVCO's GSAC seamless archive for discovery, sharing, and access to data.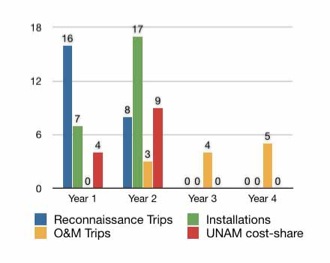 Project schedule of TLALOCNet new cGPS-Met station installations and upgrades to existing stations.